Albert Valley Soft Leaf Buffalo
Albert Valley Soft Leaf Buffalo has a 60% shade tolerance only requiring 4-5 hours of sunlight per day where other varieties can only handle up to 50%. Albert Valley Buffalo has a deep root system with thick stolons which allows it to thrive in hot humid weather and can survive below freezing temperatures. It is a fantastic looking turf holding it's colour well during cold winters. Most buffalo types have the reputation of being coarse and scratchy but this is not the case with the Albert Valley Soft Leaf Buffalo, being a dense lawn with solid wear tolerance, it is a great choice for families with pets & kids. This variety of Buffalo has a super soft leaf that folds in half along the axis giving it an extra fine appearance and protection from Queensland's extreme climate.
Call through for a Quote now. 07 5546 4154
Albert Valley Soft Leaf Buffalo runners rapidly grow across the ground which enable it to repair quickly and recover from high traffic and stressful situations. The runners grow like a tight knitted mat restricting and out competing weeds leaving very little room for them to grow through. Albert Valley Buffalo has also been proven to be less thatchy and spongy like most other Buffalo varieties.
Albert Valley Buffalo is a slower growing buffalo grass, which will require less lawn mowing and maintenance than most other buffalo types. It requires mowing every 5-10 days in summer and every 3-6 weeks in winter. The recommended mowing height is 2-5cm in sunny conditions and 5-7cm in shaded conditions.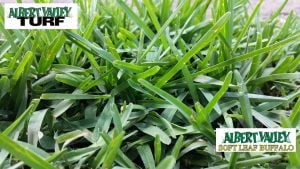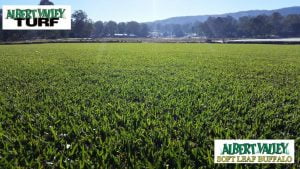 The unique characteristics of Albert Valley Soft Leaf Buffalo are:
Low Maintenance
Fine, soft leaf texture
Dark emerald colour
Has a 60% shade tolerance, needs 4-5 hours of sunlight per day
Non-Irritant
Quick growing
Excellent wear resistance with fast recovery
Thrives in hot and humid weather
Excellent disease tolerance
Out competes weeds
Robust root system
Drought tolerant
Fair to good salt and frost tolerance
Albert Valley Soft Leaf Buffalo can be used for residential and commercial premises and with correct turf maintenance will give your garden the advantage of a brilliant emerald green, manicured finish that will be the envy of your street. Ready to discuss supply and delivery of your new turf? Please contact us today.
Albert Valley Turf has been operating for over twenty years. We also supply Albert Valley All Seasons Couch, Albert Valley Easy-Going Zoysia,  Empire™ Zoysia, Wintergreen Couch and Oz Tuff® Couch. We have an experienced landscaper on-site who can assist you to make the right decision for your garden and we offer delivery and turf laying services. Read more about our supply and delivery services.