Albert Valley Turf and Grass
Albert Valley Turf started operations in 1990 as a dedicated landscaping operation and diversified into turf supply as the business grew. The turf farm is located beside the Albert River in South-East Queensland, with growing conditions that allow us to grow all our varieties of turf all year round. Over the years we have perfected the way we grow grass, if you want quality, weed free and strong turf then choose Albert Valley Turf. We aim to provide the very best service, products and advice to our customers. As we are located in between Gold Coast and Brisbane we are ideally positioned to deliver and install your new turf lawn with 48 hours of ordering. We have a professional turf laying crew available 5 days a week to install your new lawn, we can also have a team to quote you for full preparation, supply and install within 24 hours of your enquiry. So why not call Albert Valley Turf today to complete your lawn transformation.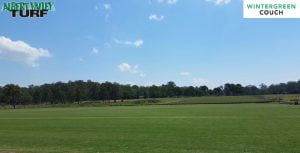 Our Turf
Albert Valley Turf prides itself on high quality, less weeds and great customer service.
Check out our
– Albert Valley Easy Going Zoysia
– Albert Valley All Seasons Couch
– Albert Valley Soft Leaf Buffalo
We are certified growers certified by Turf Breed, we grow Sapphire® Soft Leaf Buffalo  and Empire® Zoysia with certificates of authenticity available on request. We focus on the following speciality turf varieties that are perfectly suited to the Gold Coast, Ipswich and Brisbane areas:
Turf supply options include:
Supply and delivery
Supply, deliver and installation which includes rolling in the new turf
In-home quotes are available upon request when needing full preparation, supply and installation
Pick up your turf from the farm 6 days a week
We call you with an expected time of arrival
Forklifts are attached to our truck, so we can place your pallets where you would like them
Expert aftercare service and free advice
48 hour turnaround from when you order to delivery
Free quotes available by email or phone
We enjoy meeting our customers, but Albert Valley Turf is a working farm so visits are STRICTLY BY APPOINTMENT ONLY. Please contact us to confirm a time.
Want to know more about our services?  Get in touch with us today for an obligation-free quote.